Miami fighter
Tony Johnson Jr
. says that it's a "done deal" and he's just waiting on the contract to arrive. He will face
Brett Rogers
in Japan on April 30th.
Tony as KOTC heavyweight champ.
Congrats to Tony for getting such a high-profile fight. He repeatedly asked for a certain other large, big-name black fighter (Bobby somebody...) but... for some reason it never got booked. Going against Brett Rogers is a nice career boost.
"He's a strong dude, but I think my game is a little better," Tony said. "I'm gonna go over there and showcase my skills and bring home the win."
Tony is the former King of the Cage heavyweight champ. He's 6-1, with his only loss coming from Daniel Cormier.
Rogers is 11-4, with 3 losses to huge names in MMA: Fedor; Barnett and Overeem. He last fought on Feb. 18 in Michigan. The fight was ruled a No Contest in the 1st rd after he punched Todd Allee in the back of the head. Allee couldn't continue, resulting in a NC stoppage.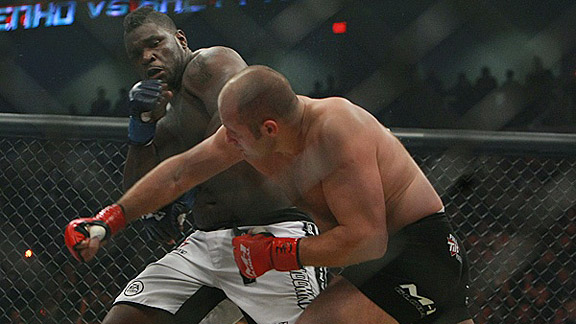 Rogers banging against Fedor.
The fight may air on HDNet; everything is still in the planning stages. This could be a damn good match, and end up on a highlight reel. Stay tuned; more details coming in the future, including an interview with Tony.
TOM STEDHAM